Domestic - International Shipping Information

•All orders submitted by 12:00 p.m. Central Time, Mon-Fri,
will be shipped the same day. Excluding Federal Holidays.

•All orders submitted after 12:00 p.m. Central Time, Mon-Fri,
will be shipped on the next business day.

•Orders placed on weekends or Federal Holidays will be shipped the
next business day. Business days are Monday through Friday.






Domestic Delivery Options:
Miraclesoap.com Prefers FedEx for shipping.
Other choices are available during checkout.
FedEx Delivery Choices:
Ground Delivery: (lower 48 States, maximum delivery time of 4 days)
Express Saver: Maximum of 3 Days or less based on distance. (Best Value)
2nd Day Delivery
Overnight Standard

All orders will be shipped by FedEx, unless you choose a
different shipping carrier when submitting your order.

We do our very best to get your products to you as soon as possible. However, shipping times are not guaranteed by UPS or FedEx for ground deliveries. We cannot control occasional inventory shortages, shipping carrier delays, delays from weather and other factors, that may delay your shipment.

FedEx Ground Home Delivery: Delivers Tuesday thru Saturday up to 8pm.

*Estimated FedEx Ground Delivery Times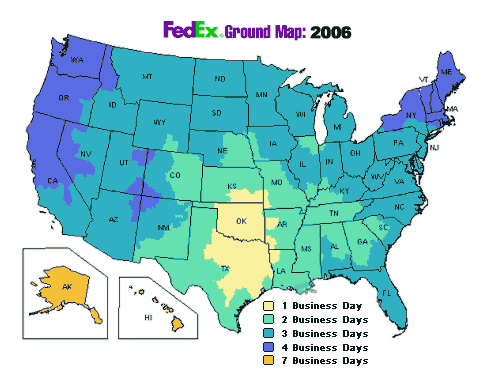 When will my order arrive:
Your order delivery date may vary due to a number of factors. If you place your order after 12:00 PM, your order will not ship until the following business day. For example: If you place your order at 3PM on Friday, your order will not ship until the following Monday. Some carriers may not consider this a transport day, until Tuesday. FedEx ground service in the continental US (lower 48 States) has a maximum of 4 days for delivery. If your are at the greatest distance based on our FedEx ground service map (see above) your order would not arrive until Friday, at the latest. (not including weather related delays if applicable). Carriers observe Federal Holidays and Ground shipping will be delayed for one day when Holidays are observed. Once your order has been acquired by the carrier, you will receive an email with your tracking number, which then you can confirm and track the arrival date of your order.

International Delivery Options: Duties Taxes Vat & Customs
When checking out in our store and you choose FedEx or UPS, the automated shipping fees generate your country specific, Duties, and Brokerage Fees. This is included in the shipping fees and is handled by the carrier you've chosen. Each country has it's own specific laws regarding importing, and they might contact you before releasing your shipment for additional fee's. Electronic Customs Documents are sent to the destination country to Customs to expediate your delivery. On occation you might be called by your local carrier or your customs for release if needed. If you are a tax exempt business reselling Miracle II during your formal sign-up we will setup your accout to be listed as PS / HST / VAT exempt in your provincial state or country if it applies. All other customers will be subject to your local personal Country / State / Province taxes required by the laws in your country. Customs might contact you direclty before releasing your shipment to you in respect to your local tax laws and requirements. Delivery times can very from 2 days (International Express), and up to 15 days if you've chosen economy shipping.

UPS Domestic Delivery Choices:
Ground Service (up to 6 Days based on distance and rural location). If you live in a rural location our you use the rural 911 identifier as your physical address
UPS Ground should be your prefered carrier when choosing shipping carriers during the checkout process.

General Shipping information:
· FedEx / UPS tracking number will be provided by email for your convenience.
· We are not able to deliver to a P.O. Box address via FedEx or UPS.
· Shipping charges are based on the weight of your package and the shipping destination and distance.
· Please keep your Order Confirmation number so our Customer Care Center can better assist you.
· We can deliver to international destinations. (certain restrictions apply).
· When checking out, all shipping charges will be displayed on the "Submit Order" page before you finalize payment.
· If you live rural you can use your 911 identifier in the address field. (UPS only)
· No refunds will be issued after 30 days from the date your product was shipped.

Delivery of Orders:
Our shipping labels are generated from the shipping information you provide when submitting your order. If your order is re-routed or returned to us due to incorrect or incomplete shipping information, you will be charged $10.00 and the cost of re-shipping your package(s).

Miraclesoap.com will not be responsible for orders that are not processed or received due to technical difficulties that occured when you submitted your order.

Back Orders
We regularly stock every item we carry; occasionally a product may be out of stock. If any product is not in stock to complete your order, your order will be held until all items are in stock and available for shipping. Your order will be immediately processed and shipped once all items are instock and available to complete your order. You will be notified by e-mail if your order is being held due to an item being out of stock. Upon notification, you will have the option to cancel your order or request that your order be shipped without waiting for the out of stock item(s). If you choose to have your order shipped without the out of stock item(s), any out of stock(s) items will be sent to you separately by UPS Ground when the out of stock item(s) come available. Your account will be charged, along with the additional shipping cost to ship the out of stock item(s) to you.

Cancelled Orders
Before shipping, you may only cancel your order by contacting us by phone, (888.895.7627). Please provide your name and Order Number when canceling an order. If your order has already been shipped, refuse delivery of package(s). Once your refused package(s) have been received at our fulfillment center, a credit will be issued to your account within 5 business days.

Return Policy
Your satisfaction is our primary goal. If for any reason you are not satisfied with your purchase, you can return the unused portion within 30 days of your original shipping date from us, for a full refund of the purchase price of the returned product, not including shipping charges.

For returns, please follow these simple steps:

1. Please call 605.332.7943 to receive a RMA# (Return Authorization Number). Returns will not qualify for credit without a RMA#.
2. Pack the item(s) securely and mail to: Miraclesoap.com, 1904 West 24th Street, Sioux Falls, SD 57105.

Shipping charges are not refunded and you will be responsible for the shipping fees necessary to return your product(s) to us.

Returns will be processed within 5 business days. Your credit will be issued back to the original form of payment used when purchasing.


Miraclesoap.com reserves the right to change its shipping costs and shipping policy at any time.

Shipping Document revision change dates: 01/08/2003; 05/15/2003; 08/03/2004
09/20/2004; 08/26/2005; 01/01/2006